Dental Implants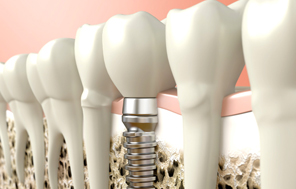 Dental implants are the next stage in cosmetic and restorative tooth replacement. Dental implants provide more strength than traditional crowns, using materials that work directly with your jaw to hold the replacement tooth in place.
How are dental implants different from crowns and bridges?
When most people think of crowns and bridges, they think of a process that uses your natural tooth, reshaped to fit the bottom of the crown or bridge, anchored in place with dental cement. Dental implants aren't a replacement for crowns or bridges. Instead, they replace the way crowns and bridges are fixed in place.
Dental implants use high grade materials, such as titanium, that have roughly the density and strength as bone. The bone and implant fuse together—a process known as osseointegration—essentially making the implant and your jaw "one piece". They have the same density and strength, and your body treats them as a single part.
A metal cap called an abutment is placed on the implant. This abutment is similar to the natural tooth used in the traditional crowns and bridges. It's what will take your artificial tooth when your implant is ready.
After the dental implant is fused in place, crowns and bridges can be fixed to them, restoring a natural, healthy looking smile.
Why should I go with a dental implant over a traditional crown or bridge?
Dental implants are stronger and longer lasting than traditional tooth crowns and bridges. While it's true that the traditional approach leaves more of your natural tooth structure, in the case of crowns and bridges that's not good for much. The traditional approach relies on reshaping that tooth down to a peg to fix the crown or bridge to, meaning your tooth won't function as a tooth.
By trading out the stump of tooth for a full implant, the dental implant gives you a lifetime of secure tooth replacement, whether your need is cosmetic or restorative. Dental implants, if properly cared for, will last the rest of your life. By comparison, traditional crowns and bridges require replacing every 10 to 15 years. Dental implants are also less prone to serious damage than traditional crowns or bridges.
That means that the traditional approach, while appearing cheaper, will often end up considerably more expensive than a dental implant, as even without replacing the traditional crowns and bridges due to damage, you'll still need to have new ones refitted periodically for the rest of your life.
Am I a good candidate for a dental implant?
The good news is that most people are good candidates for dental implants. The implant materials are specifically chosen to both mimic the natural density and strength of your bone, as well as integrate with it.
The only reason you may not be a suitable candidate for a dental implant is if you have considerably bone loss in your jaw. Fortunately, most people fall outside that very specific case. Even if you don't, grafts can treat some jaw deterioration and make you a viable candidate for dental implants.
Book a consultation with Dr. Kamel today to find out if dental implants are right for you!
I want dental implants! How do I get started?
If you're ready to book a consultation for dental implants, contact MYsmile to book today! Dr. Kamel will help you decide if dental implants are right for you.
Have a question about dental implants? MYsmile has the answer. Don't see your question here? No problem—just Ask MYsmile!
If you want real information, real patients, or real results on MYsmile's dental implants, you've come to the right place.
Want to see the difference MYsmile's dental implants can make for you? Real photos, real patients, real results.

Check out what others are saying about MYsmile's dental implants!